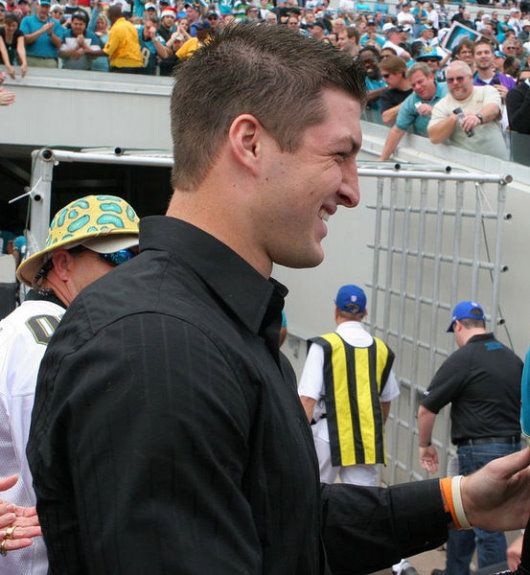 On Wednesday, two separate reports seemed to point to the fact that Aaron Hernandez, former New England Patriots TE, might have a problem with bars. First, TMZ
reported
that Aaron Hernandez was kicked out of a bar in April after drinking too much.
In the second case, though, it was dual celebrity news, as it
was reported
that future Heisman Trophy winner Tim Tebow tried to break up a violent bar fight. That incident took place in 2007, when both were college football players at the University of Florida.
The first, more recent case, took place in Hermosa Beach, Calif., where Hernandez is known to have a rented home (and where police have been called
numerous times
).
Sources who were in Chelsea Pub and Lounge on April 19 say that Hernandez -- currently under lock and key, without bail, in the Odin Lloyd murder case -- had been drinking double Patron Silver shots all night in, between glasses of Adios Motherf*ckers, which is a mixed drink consisting of vodka, rum, tequila, and gin.
Hernandez repeatedly tried to walk outside the bar with his drink -- understandably staff didn't want him to do that. However, Hernandez didn't "get that," and began swearing at the bar staff. Asked to leave, Hernandez refused -- until he found himself surrounded by multiple security guards.
At that point, he realized that even a 6'1", 245 pound TE needed to leave. He paid off his bar tab and left quietly.
The 2007 incident wasn't so quiet. Hernandez, who was then a 17-year-old freshman, punched a bouncer in the head causing a broken ear drum on April 28, 2007, according to the police report. Hernandez left before police arrived, and Tebow -- who was still there -- was interviewed; the gist of the case is as follows:
The incident took place at the Swamp Restaurant in Gainesville, Fla, after Hernandez allegedly ordered two "alcoholic drinks." He drank them, but refused to pay for them (it is unclear why, but perhaps he felt that being a University of Florida player meant he received freebies).
At that point, Hernandez got into a fight with a bouncer at the bar, Michael Taphorn. Hernandez punched Taphorn in the side of the head, and while Taphorn declined medical treatment, the next day doctors discovered his right ear drum had burst and said that the injury would take four to six weeks to heal.
Officers could not find Hernandez immediately following the incident, so they interviewed Tebow and another person.
According to the report, Tebow stated that he witnessed the dispute and that he tried to help resolve the conflict, urging Hernandez to leave peacefully.
Tebow, himself, tried to make arrangements to pay the bill.
Two hours later, another officer found Hernandez and spoke to him about the incident. Notably, Tim Tebow was present during that interview. That particular officer wrote that Hernandez did not appear drunk, and in fact as "very polite and professional."
Interestingly enough, authorities chose to not pursue the bar for serving underage customers.
Aaron Hernandez is currently in jail on charges stemming from the murder of Odin Lloyd. He has been denied bail.
Join Amazon Prime - Watch Movies, TV Shows via Prime Instant Video, Free Two-Day Shipping, and More!