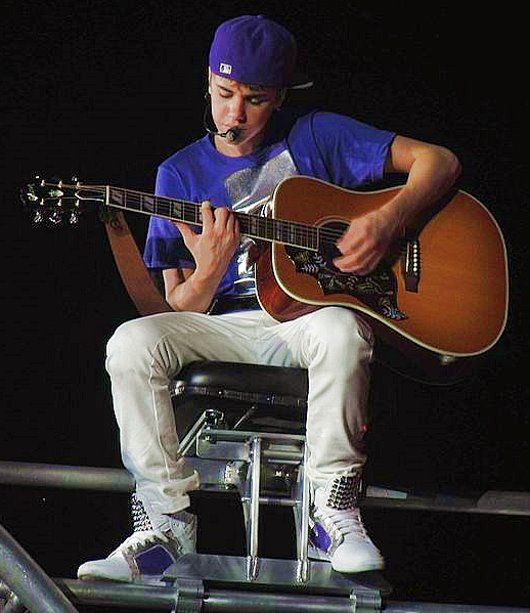 Perhaps the tale of Justin Bieber spitting in a neighbor's face isn't such a tall one after all. A listener called into WCNI
on Tuesday
and related the story of another Bieber spitting incident.
According to the man, who was identified as a local DJ, it all began in the VIP room at the Social Room on Park Street in Columbus, Ohio this weekend. Bieber's people apparently thought the man was trying to take pictures of the pop superstar, which -- he said -- probably made the Canadian a tad bit nervous. The Social Room is a 21+ club, and Bieber is 19.
Of course, Bieber has been
frequenting
21+ clubs lately, including the Bodi nightclub in Chicago, last week. Given that -- and that the club, not him, was legally hammered last week -- why be all that nervous about another appearance?
At any rate, Bieber's people took hold of the DJ's phone and began searching it for images. The Bieber crew member didn't find any but, the man claimed, bouncers told Bieber that the DJ -- who had performed at the club earlier that evening -- had been trying to take pictures.
Bieber later took matters into his own hands, though -- naturally -- the 5'7" featherweight was backed up by his bodyguards. The DJ said:
He called my mom something, called my dad something, called me something, and spit in my face.
The DJ said that he is going to file charges, but these sorts of celebrity crimes rarely go far, being discounted by the authorities over "celebrity privilege." He also said that he was tested for hepatitis, but that the test came back negative.
This is the not the first time that Justin Bieber has been accused of spitting in someone's face. In March, one of Bieber's Calabasas, Calif., neighbors said the singer spat at him after being confronted over reckless driving in the gated community.
Bieber also seems to have a spitting propensity, whether in faces or not. Earlier, in January, he was accused of
spitting Gatorade
into another gym goer's water bottle.