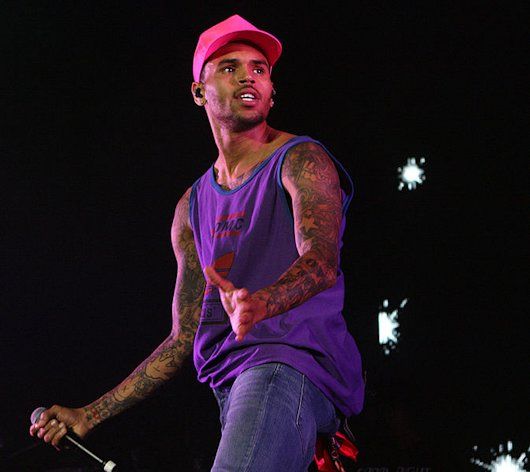 It was rumored for some time, but
on Monday
, the Los Angeles County District Attorney took steps, and a judge followed through. Not only did the D.A. file for Brown's probation in the Rihanna beating case to be revoked, Superior Court Judge James Brandlin revoked it.
Parole wasn't revoked, however, over the matter that many expected to cause his parole to be revoked, which was that he has been of
not completing his community service
in the Rihanna case. Instead, it was over what should have been a
minor traffic accident
in May.
In that case, Brown allegedly failed to show her his driver's license and insurance information to another driver after a minor traffic crash in May. Brown will remain free, however, until at least a hearing in August to determine if the parole violation will stand.
A lawyer for the other driver, Olga Gure, said in a court hearing Monday morning "that his client did not want to press charges, that any damage was "negligible" and that Chris did identify himself at the scene and that she was given all of the appropriate insurance information," a Brown rep said in a statement to CNN Monday evening, adding that "We (the Brown camp) are hopeful that the case will be dismissed next week."
Based on the police report on the events, the woman would seem to be being very kind to Chris Brown. Bure's Mercedes was allegedly rear-ended by a Range Rover that Brown was driving on a Los Angeles street. Reportedly, Brown "went ballistic" after the traffic accident and screamed at her.
According to the report, Brown allegedly refused to show Bure his driver's license. Instead his passenger, on-again, off-again girlfriend, Karrueche Tran, offered hers, and an expired insurance card for a Lamborghini. The explosion occurred after Gure took a photo of Brown and to document the scene.
Brown shouted at Bure:
You are a b---h! Who do you think you are, b---h? Do you think if you driving Mercedes so got money, b---h? Do you think I am just a black n----r? I got more money than you, beech!
Brown attempted to take the camera away from Bure, with Tran shouting at him, "Don't touch her, don't touch her," according to the report.
Bure added,
I was so shocked, that I was speechless. Just a moment ago he was a nice guy. After screaming some insulting nonsense for a while longer, he slammed a door and drove away fast and noisy.
Bure didn't know the identity of the man who hit her car until a friend called and told her after seeing a report on the Internet. Two days later, a private investigator visited Bure and gave her Brown's name, birthdate and business address and the contact information for Brown's lawyer, Mark Geragos. She was also given an expired insurance card for the Range Rover.
The next hearing in the case is set for Aug. 16.
Chris Brown expressed his disapproval of Judge Brandlin's decision in a tweet:
I did everything I was suppose to do during the so called hit n run, I provided the correct info. There were no injuries or damages. C'mon!!
If the parole violation stands at the next hearing, it is possible that Judge Brandlin could order Brown taken into custody and force his to serve part of his original five-year jail sentence for the attack on Rihanna.