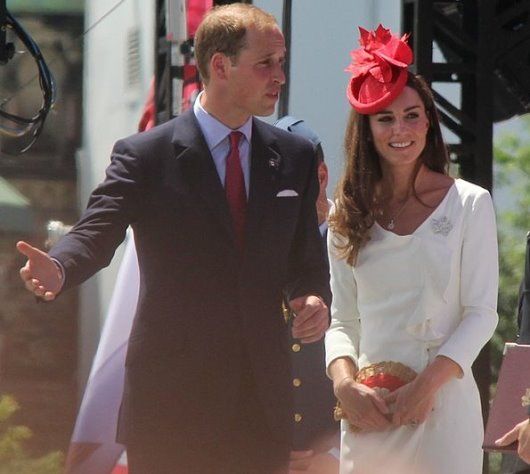 New babies have a mind of their own when it comes to entering the world, but
on Monday
, Camilla, the Duchess of Cornwall and step-grandmother-to-be, assured all of the U.K. that the "royal baby" will arrive by the end of this week. The new third-in-line to the throne will be the first child for Prince William and Kate Middleton.
Earlier reports had targeted last Saturday, July 13. Officially, though, the royals had not given a clear due date. The palace said only "mid-July." The Duchess of cambridge (Kate) herself mentioned July 13 to someone who asked during an engagement. Meanwhile, Carole Middleton, her mother, was quoted as saying the baby would be a Leo, which would mean it would be born after July 23.
Camilla and grandfather-to-be Prince Charles were at a public engagement in Cornwall when she made an impromptu speech at a children's hospice they were visiting. She said:
We are all just waiting by the telephone. We are hopeful that by the end of the week he or she will be here.
The preferred place to give birth is St. Mary's Hospital in London, but there is a backup plan in case Kate is visiting her parents in Bucklebury, as she was last weekend.
Bucklebury is about 50 miles or an hour's drive outside London, according to British media.
Since father-to-be Prince William was out of town last weekend, too, it would seem that July 13 wasn't an actual date. While prepared to return quickly should the need arise, the Duke of Cambridge spent the weekend with his brother, Prince Harry, playing in polo games on both Saturday and Sunday to raise money for their charities.
The official plan outlined by the palace, thus far, is that the media will be alerted only after Kate has checked into a hospital and started labor.