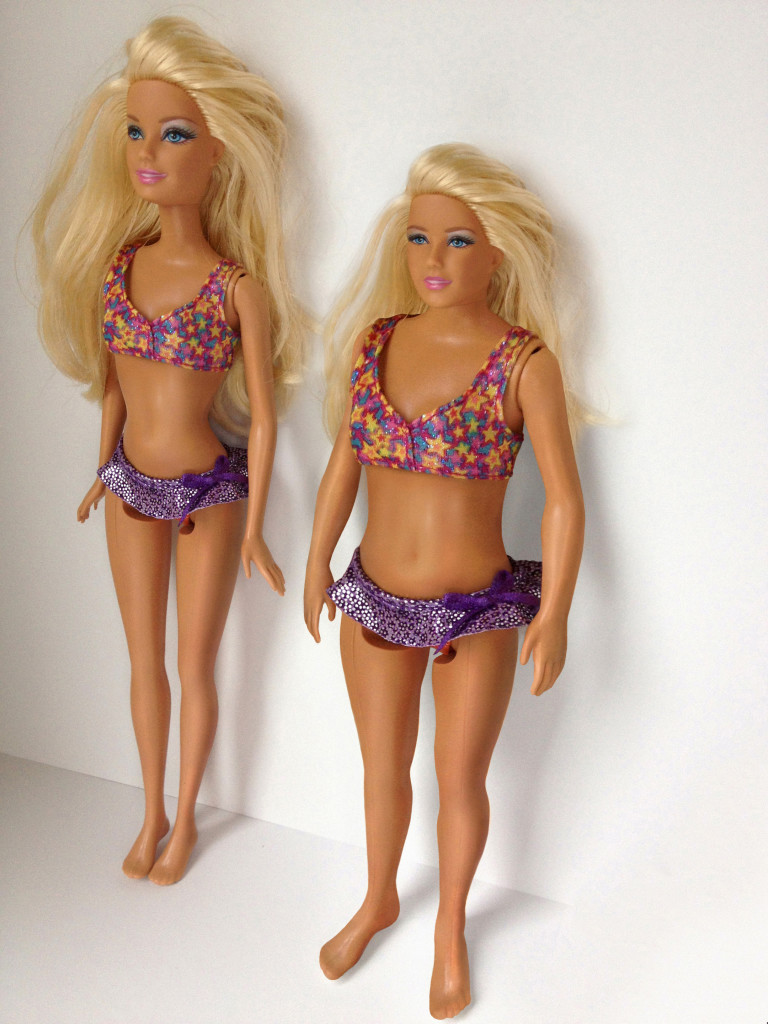 Despite being a pop culture icon, Barbie is often criticized because the doll's proportions are, quite honestly, out of range with reality. Artist Nikolay Lamm created his own version of the Barbie doll, with realistic dimensions, based on the average woman. Lamm posted images of his "average Barbie"
on Thursday
.
Wikipedia
highlights
the unusual dimensions of Mattel's version of the Barbie doll.
A standard Barbie doll is 11.5 inches tall, giving a height of 5 feet 9 inches at 1/6 scale. Barbie's vital statistics have been estimated at 36 inches (chest), 18 inches (waist) and 33 inches (hips). At 5'9" tall and weighing 110 lbs, Barbie would have a BMI of 16.24 and fit the weight criteria for anorexia.

According to research by the University Central Hospital in Helsinki, Finland, she would lack the 17 to 22 percent body fat required for a woman to menstruate. In 1963, the outfit "Barbie Baby-Sits" came with a book entitled How to Lose Weight which advised: "Don't eat!." The same book was included in another ensemble called "Slumber Party" in 1965 along with a pink bathroom scale permanently set at 110 lbs., which would be around 35 lbs. underweight for a woman 5 feet 9 inches tall.

Mattel has said that the waist of the Barbie doll was made small because the waistbands of her clothes, along with their seams, snaps, and zippers, added bulk to her figure.
According to the
CDC
, the average adult American woman aged 20 years or older would be slightly less that 5'4", weigh 166.2 pounds, and have a waist of 37 1/2 inches.
According to a
2009 report
, the average British woman is -- at least then -- 38-34-40. Considering that in the 1950s the average U.K. woman was a svelte 36-24-35, those 2009 figures may have increased, too.
Lamm said:
If we criticise skinny models, we should at least be open to the possibility that Barbie may negatively influence young girls as well. Furthermore, a realistically proportioned Barbie actually looks pretty good in the pictures I produced."

So, if there's even a small chance of Barbie in its present form negatively influencing girls and if Barbie looks good as an average-sized woman in America, what's stopping Mattel from making one?
One thing is true, though. As shown in the slideshow
here
, Barbie's waist has widened over the years.
Join Amazon Prime - Watch Movies, TV Shows via Prime Instant Video, Free Two-Day Shipping, and More!