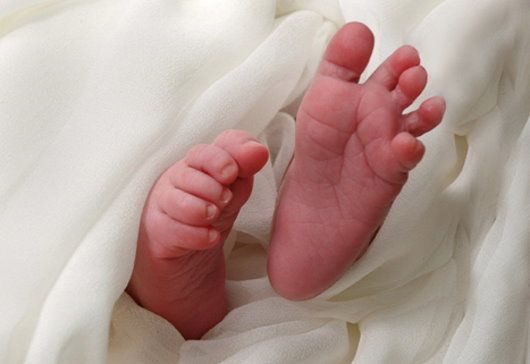 Twitter has been aflame with congratulatory tweets since it was revealed -- on Sunday, Father's Day, 2013, no less -- that Kim Kardashian and beau Kanye West have welcomed their daughter into the world. First confirmation, in fact, seemed to come via Twitter on Sunday afternoon, with matriarch Kris Jenner
tweeting
:
"HAPPY FATHERS DAY @kanyewest !!!!!!"
We will forgive Kris Jenner for the Internet equivalent of shouting.
Speaking at Sunday's red carpet for the Daytime Emmy Awards, Jenner added,
We're happy, everybody's good and she's beautiful.
The family isn't saying too much, as the happy couple haven't said anything themselves. However, Khloe Kardashian was more effusive than Mom,
tweeting
:
I can not even begin 2describe the miracle that is now apart of our family. Mommy/baby are healthy &resting. We appreciate all of the love.

More info will come when the time is right! Thank you all for understanding! We love you all dearly! Overwhelmed with love right now ♥
A number of non-familial celebrities tweeted congratulations to the couple. Among them:
Hip Hop mogul Russell Simmons: "There is no greater gift in life than a child's laughter! congrats to Kim And Kanye."

Pauly D: "Congrats @KimKardashian And @kanyewest On The Birth Of Your Baby Girl !!!!!"

Bethenny Frankel: "All kidding aside, congrats @kimkardashian on your baby girl. It's the most beautiful, best thing that could happen to you. Girls rule." (For those assuming, she has a daughter, Bryn Casey Hoppy).

Maria Menounos tweeted, "Congratulations @KimKardashian on your little angel!xoox."

Rapper Nas congratulated Kanye West: "Congrats to Kanye 4 the birth of his daughter today too! To my bros w/ daughters!!"

Kevin Hart tweeted: "Congrats to @KimKardashian & @KanyeWest on the birth of their new baby girl!!!"

Sally Jessy Raphael tweeted: "Kim Kardashian had her baby a month early?! It's a bad omen when even your infant doesn't want to b near u a minute longer than needed! Lol"
For those wondering, the couple's new bundle of joy was born at Cedars-Sinai Medical Center in West Hollywood, Calif.
The big question now, in addition to a name and tweets from the proud parents, is if the couple will sell the first images of Kimye. People, you'll recall paid a record $14 million for the exclusive first images of Brangelina's twins Vivienne and Knox. It is doubtful "Kimye" will demand that high a sum.
It's also unclear if the images will be sold at all, with West telling the New York Times: "I just don't want to talk to America about my family. Like, this is my baby. This isn't America's baby."
Of course, the Kardashian empire might have something to say about that.