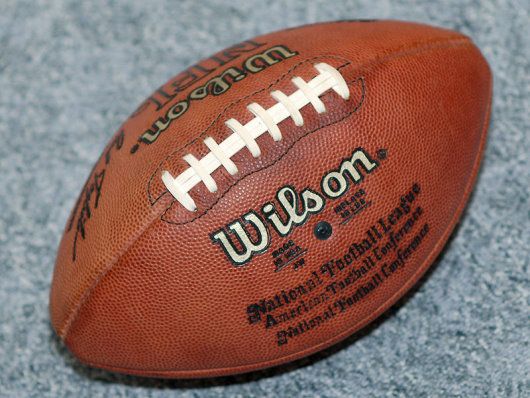 Three DJs were fired by an Atlanta radio station
on Monday
after mocking Steve Gleason, a former New Orleans Saints safety who is now confined to a wheelchair as he battles Lou Gehrig's disease (amyotrophic lateral sclerosis or ALS).
Their skit, so to speak, may have been spurred by a column that Gleason wrote for Sports Illustrated, which appeared Monday. It detailed his battle with the dreaded -- and terminal -- disease. Gleason has lost of his motor skills and writes and speaks with a computerized device that allows him to do so by using his eyes.
As Gleason wrote at the start of his story:
Typing with your fingers or thumbs is sooooo 2012.
The three former 790 The Zone hosts, Steve Shapiro, Nick Cellini and Chris Dimino, performed a mock interview, including a fake robotic voice representing the ailing Gleason. The interview can be heard, embedded.
At one point in the segment, faux Steve Gleason started a "knock knock" joke. It went as follows:
Knock, knock.
Who's there?
Smother.
Smother Who?
Smother me. Do me a favor.
Sadly, that was probably the least tasteless part of the skit.
The station wasted little time taking action. A few hours after the show - "Mayhem In The AM" -- ended, 790 The Zone fired all three hosts and released the following statement:
We deeply regret the offensive programming that aired this morning on 'Mayhem In The AM' on 790 The Zone, related to former New Orleans Saints player Steve Gleason and his battle with ALS. We suspended the three individuals involved immediately following their comments and have since terminated their employment. 790 The Zone, our owners, sponsors and partners in no way endorse or support this kind of content. We sincerely apologize to Mr. Gleason, his family and all those touched by ALS.
790 The Zone also broadcasts Atlanta Falcons games, prompting that team to release its own statement, as well:
The Falcons are disappointed in the comments made about former Saints player Steve Gleason on a local Atlanta radio station Monday morning. The content concerning Mr. Gleason was completely inappropriate and is not representative of the views of the Falcons organization, nor does it represent the way we conduct our business on and off the field. To single out Steve the way he was this morning is totally lacking in taste and discretion.
After the firing, Dimino tweeted the following apology (in two tweets), and asked listeners to leave his friends and family alone.
I have so.many people I have to apologize to. I know this is not who I am...but it is who I am today. An apology here means nothing if I...

Don't reach out to all the people I need to. I am in that process as we speak. Friends and family and most importantly those I know I hurt
ALS moves swiftly. Gleason, 36, was only diagnosed in 2011. He has accepted the DJs' apologies, as he wrote on his organization's
Facebook page
Tuesday.
Regarding the DJ skit in Atlanta yesterday. I would like to thank the public for their support. 'Defend Team Gleason' now has been officially redefined. Additionally, the DJs have provided genuine apology. Received and accepted. We have all made mistakes in this life. How we learn from our mistakes is the measure of who we are.

I think everyone can learn from this event. Its clear to me that, on a national & global scale, ALS is not understood, which is part of why its under funded and largely ignored. In the past 36 hours lots of people have been talking. Lets talk about this… There are zero treatments for ALS. If you take any action as a result of this event, I prefer it to be action to end ALS.
ALS is a progressive neurodegenerative disease that affects motor neurons. As the motor neurons die, a person's ability to initiate and control muscle movement is lost. The progressive degeneration of the motor neurons in ALS eventually leads to death.