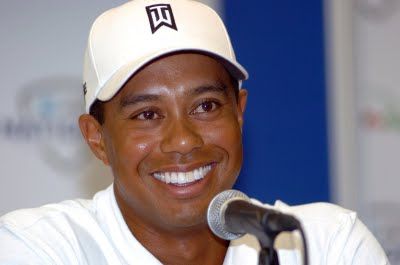 Tiger Woods did not score a hole-in-one with his relatively new girlfriend, Lindsay Vonn, it was
reported on Tuesday
. Although much more attention seemed to be focused earlier on Kim Kardashian's Met Gala gown,
which some compared to a gaudy sofa
, Tiger Woods' actions at the same function were said to embarrass Vonn.
US Weekly dished on the details: Following the Met Gala, Woods and Vonn, went to the after-party at the Boom Boom Room on top of the Standard Hotel. There, Woods, 37, reportedly had too much to drink.
Vonn, 28, looked at home in the celebrity-studded crowd, which included those such as Leonardo Dicaprio, Anne Hathaway, Amanda Seyfried, Chris Brown, Solange Knowles and Kate Upton, among others. One witness said that "Tiger looked uncomfortable."
Vonn and Woods even reportedly engaged in some PDA. However, at one point during the evening, the once-divorced golfer got up to dance -- and did so awkwardly. He grabbed Vonn's butt affectionately and the world-class skier giggled.
It was when it was time to leave, Tuesday morning at about 2 a.m., that Woods fell while walking up a small flight of stairs. He was described as tipsy -- at least -- and Woods didn't move from his spot until Vonn, reportedly looking embarrassed and clenching her teeth, helped him up. She then assisted him -- swaying slightly -- as they left, according to a witness.
In March, the couple debuted their long-rumored relationship with dual Facebook posts. Woods wrote:
Lindsey and I have been friends for some time, but over the last few months we have become very close and are now dating.
Woods split from then-wife Elin Nordegren back in 2010 after what can only be called an epic scandal over numerous affairs.