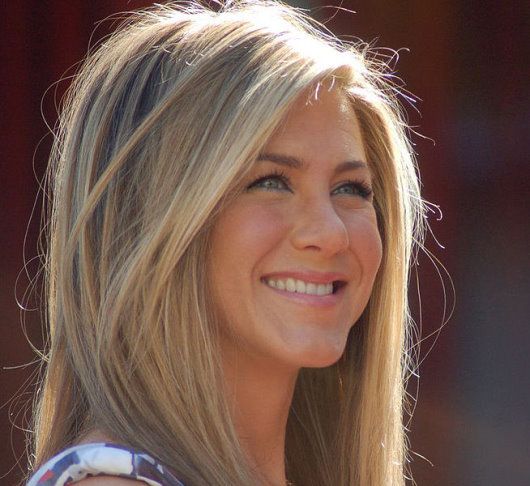 Jennifer Aniston, 44, and fiance Justin Theroux, 41, have postponed their wedding. It's not, however, because they are splitting. Rather, the announcement
that was made Wednesday
stated that the postponement was made so that the couple could iron out details of the wedding.
The wedding had been scheduled for May, but a number of issues have cropped up. For one thing, the couple can't agree on the size of the ceremony. Due to the problems, they have decided to push the wedding out to the end of the summer. After all, even though this is Jennifer's second wedding, every bride wants a perfect ceremony.
A source close to the couple said:
Jennifer and Justin have been totally relaxed about the wedding planning. They're looking forward to the wedding, but they have different ideas about the actual wedding itself.

It's not to do with them as a couple, they're madly in love. Every time you see them they've got their arms around each other.

Jen wants something bigger with all their friends, Justin would just like something a bit more intimate.

At this point, we're expecting the wedding to be at the end of the summer, just before Labor Day Weekend (Sept. 2).
One of the members of the ensemble "Friends" cast, Aniston and Theroux got engaged last summer. She recently admitted that she is so busy that she hasn't even had time to select a wedding dress.
Despite the fact that Aniston wants a larger wedding, her prior wedding to first husband Brad Pitt -- in 2000 -- was deemed "stressful" by the actress.
Jennifer was previously said to have found her first wedding to Brad Pitt in 2000 "stressful". Pitt wanted a huge wedding. As the source said,
They won't be blowing millions on an over-the-top wedding with hundreds of people they barely know. Brad wanted that when she married him, and she got caught up in having a huge day.

It was ultimately so stressful that she couldn't really take time to enjoy it. So it's going to be small and low-key so they feel relaxed.
Aniston was married to actor Brad Pitt for five years, but they divorced in 2005.