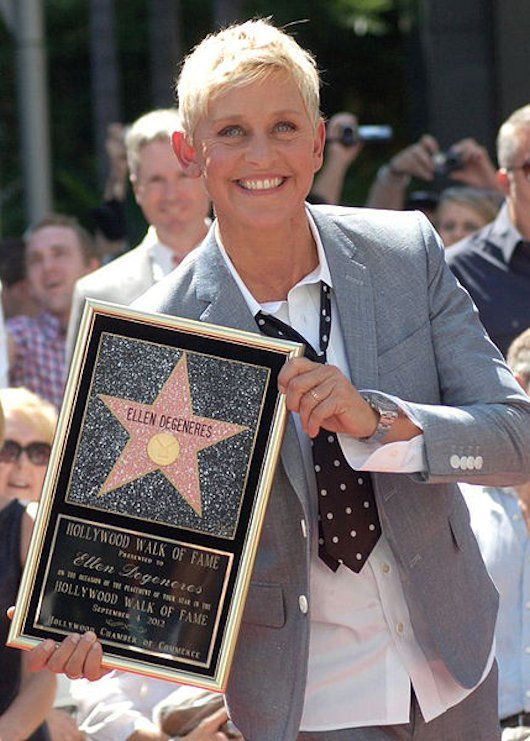 If the right-leaning Clint Eastwood -- who famously endorsed GOP presidential candidate Mitt Romney and
created a meme
while doing so -- can support same sex marriage, why wouldn't Ellen DeGeneres do so? Thus, the openly gay celebrity
did so on Friday
, though in an unofficial and snarky manner.
She wrote of her marriage to actress Portia de Rossi, which was done during the brief window when the California Supreme Court ruled it legal, and before Proposition 8, largely funded by groups such as the Mormon Church, changed the California constitution to ban it.
Portia and I have been married for 4 years and they have been the happiest of my life. And in those 4 years, I don't think we hurt anyone else's marriage. I asked all of my neighbors and they say they're fine.

But even though Portia and I got married in the short period of time when it was legal in California, there are 1,138 federal rights for married couples that we don't have, including some that protect married people from losing their homes, or their savings or custody of their children.
It's true that, despite being married in a state, the
Defense of Marriage Act
(DOMA) basically invalidates those marriages on a federal or inter-state level.
DeGeneres added that coming out was the most difficult thing she has ever done, and:
I hope the Supreme Court will do the right thing, and let everyone enjoy the same rights. It's going to help keep families together. It's going to make kids feel better about who they are. And it is time.
It's an unofficial plea, unlike Eastwood's. Clint Eastwood
joined
with 100 prominent Republicans in signing an amicus (friend of the court) brief that argued in favor of federal marriage equality for same-sex couples.
It's not an opinion that's new to Eastwood. In 2011, Eastwood told GQ magazine,
I don't give a f**k about who wants to get married to anybody else! Why not?! We're making a big deal out of things we shouldn't be making a deal out of ... Just give everybody the chance to have the life they want.
In addition to that brief, a number of large corporations, including Apple, Intel, and Facebook,
filed a "friend of the court" brief of their own
, arguing to the U.S. Supreme Court that laws banning same-sex marriages, like California's ballot initiative Proposition 8, are unconstitutional under the Due Process and Equal Protection Clauses.
The Supreme Court is currently examining two cases, both California's Proposition 8 and the Defense of Marriage Act.