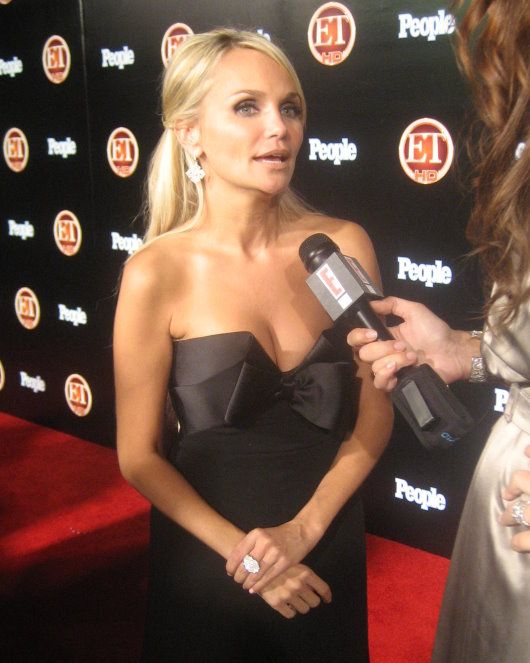 Actress Kristin Chenoweth accused an American Airlines representative of being verbally abusive to her when she tried to board an American Airlines flight with her emotional support dog. This was despite the fact that a) Chenoweth flies with Maddie frequently, and b) she filled out the proper paperwork (per a), she has had a lot of practice). However, American Airlines told TMZ
on Friday
that it has taken apologetic action.
The altercation happened earlier in the week, when Chenoweth went to board a flight from Dallas to Los Angeles. Although she does this often, she was confronted by a gate agent supervisor -- Ms. Kidwell, it became later known -- who claimed the actress didn't have the proper paperwork to bring the dog on board.
Chenoweth protested, insisting she had done everything correctly, and at that point the gate agent became "verbally abusive" in front of several passengers. She went so far as to scream and scold the actress, with Chenoweth becoming so shaken up, she burst into tears.
Eventually airline officials realized a mistake had been made -- on their end -- and Chenoweth was allowed to board the flight with her dog. After the flight, Kristin
tweeted
, "American Airlines: Dallas flight attnt supervisor Ms. Kidwell. Abuse not okay. #tripfromhell."
American Airlines somehow noticed the tweet -- perhaps they troll for tweets with "American Airlines" strings. A representative for American Airlines said, "We have been in touch with Ms. Chenoweth to offer our apologies for the misunderstanding. We refunded the [$125] cabin pet charge as soon as we realized the mistake. We hope she will consider flying American again in the future."
Of note: TMZ called Maddie a service dog. She is not. Maddie, as Chenoweth
tweeted
, is an emotional support animal. They differ from service animals; an
emotional support animal
is "a pet which provides therapeutic benefit to its owner through companionship and affection. However, they are not specially trained to ameliorate disability as psychiatric service dogs are. They require only as much training as an ordinary pet requires in order to live peacefully among humans without being a nuisance or a danger to others."
The embedded video shows a less dramatic flight for Maddie and Kristin.