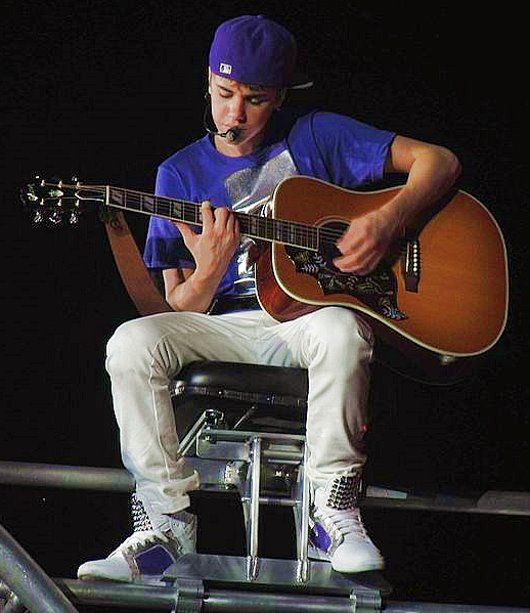 Justin Bieber didn't take too kindly to the remarks Black Keys drummer Patrick Carney
made
after the Grammy Awards Sunday night. Bieber responding by slapping down Carney
on Tuesday, Twitter-wise, that is
.
Bieber's tweet said:
the black keys drummer should be slapped around haha
Bieber was referring to Patrick Carney mocking of Bieber's Grammy snub after the awards on Sunday. When asked about the snub, Carney said:
He's rich, right? ... Grammys are for music, not for money ... and he's making a lot of money.
Meanwhile, of course, The Black Keys took home four Grammys on Sunday night. That makes seven Grammy Awards total for the group.
On the other hand, however, Justin Bieber has been nominated twice for Grammy Awards, for Best New Artist and Best Pop Vocal Album, back in 2011. He won neither, though, and has not been nominated for a Grammy since. He and his camp were upset at the snub, both in 2012 and this year, 2013.
When this year's award nominations were announced in December, Bieber's manager Scooter Braun was very upset, and took to
Twitter
to voice his opinion. His tweets, were:
first…congrats to @carlyraejepsen . thought u deserved a best new artist nom, but proud Call Me Maybe got u 2 noms. so proud of u.

second….this time there wont be any wise words, no excuses, I just plain DISAGREE. The kid deserved it. Grammy board u blew it on this one

the hardest thing to do is transition, keep the train moving. the kid delivered. Huge succesful album, sold out tour, and won people over…

... this time he deserved to be recognized and I dont really have any kind nice positive things to say about a decision i dont agree with.

so to all those nominated…you do deserve it. You worked hard and u earned it. Just feel like so did JB.

To his fans…looks like we get to stay the underdog a little longer. #BRINGIT

I got a lot more I can say but for now….Im gonna leave it at that. Congrats to all those who got nominated including our own CRJ

life is long, with many ups and downs, but we get to keep going, everyday brings a new opportunity. NOTHING GREAT EVER CAME EASY.
Bieber has won seven American Music Awards, but those awards are, as most will admit, a popularity contest. When he won last year, he said,
This is for all the haters who thought I'd be around for 1, 2 years. I feel like I'm gonna be here for a very long time.
That bravado didn't translate to the Grammys, though.