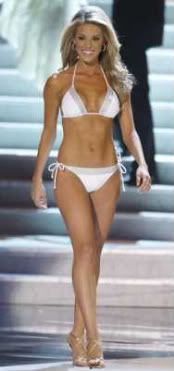 Miss California Pageant officials have decided that if former Miss California Carrie Prejean is going to
sue them
, they might as well get their breast implant investment back. Prejean filed suit in August, saying she was stripped of her crown for religious discrimination reasons. The pageant has asserted the Prejean missed event she was required to attend.
Carrie Prejean filed the suit in Los Angeles County Superior Court. The filing accused Miss California USA officials Keith Lewis and Shanna Moakler, as well as publicist Roger Neal of religious discrimination, defamation, public disclosure of private facts, intentional infliction of emotional distress, and negligent infliction of emotional distress.
At the time, Carrie Prejean's attorney, Charles LiMandri, said in a news release, "We will make the case that her title was taken from her solely because of her support of traditional marriage."
A countersuit filed by K2 Publications, says that the former beauty queen still owes the organization $5,200 for the boob job. The suit indicates that Prejean asked for the augmentation to be more competitive, and agree to repay the loan.
The countersuit stated:
"She attempts to cast herself as a virtuous young woman and the victim in a supposed conspiracy against her/ Had she heeded the guidance of the Gospel of John, who admonished only those who are without sin to cast stones in judgment, she might have avoided this legal battle."
Pageant co-director Keith Lewis said in a statement Monday:
"We are saddened by the necessity to file a counterclaim today against Carrie Prejean. We are continuing to prepare for our upcoming telecast of the Miss California USA pageant on November 22, but the integrity of the Miss California USA organization and the values it represents requires us to respond and present the truth. Our claim is not about financial reward, and all profits awarded will be donated to a charity that promotes the values of our organization."
Carrie Prejean achieved her 5 minutes of fame when, in the Miss USA pageant, she responded to a question by Perez Hilton about same-sex marriage by saying:
"Well, I think it's great that Americans are able to choose one or the other. We live in a land where you can choose same-sex marriage or opposite marriage. And you know what, in my country, in my family, I think that I believe that a marriage should be between a man and a woman. No offense to anyone out there, but that's how I was raised, and that's how I think it should be between a man and a woman."
As one of the runners-up in the Miss USA pageant, she would normally have disappeared off the map, but she followed that with appearances at anti-same-sex marriage events as well as an anti-same-sex marriage ad, keeping her visible in the public eye.