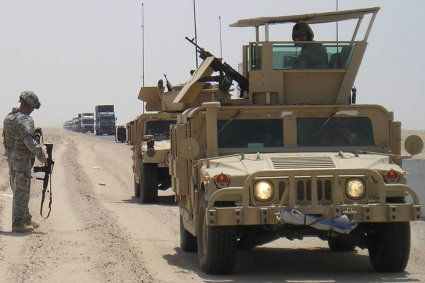 Iraqi journalist Muntazer al-Zaidi was freed Tuesday spending nine months in jail for throwing his shoes at then-U.S. President George W. Bush during his last visit to Iran. One day later, on Wednesday, in the Iraqi province of Al Anbar, a Fallujah man was shot and killed after throwing a shoe at a U.S. army vehicle.
According to witnesses, Ahmed Latif, 32, shouted abuse at the soldiers before throwing a shoe at a U.S. Army vehicle. He was shot dead as soldiers at first thought it was a grenade attack. The sole of the shoe is considered a severe insult in Arab cultures.
Further, witnesses indicated that Latif was mentally disturbed. The US military's official stance was that the incident was treated as a suspected grenade attack. They
said
:
"Positive identification of the attacker was made, and US forces fired in self-defence wounding the attacker.

"Local Iraqi police secured the scene and transported the wounded attacker to a local hospital for medical care."
It was later confirmed that Latif died of his wounds.
In the original incident, as he threw his shoes, Iraqi journalist Muntazer al-Zaidi shouted in Arabic: "This is your farewell kiss, you dog! This is from the widows, the orphans and those who were killed in Iraq." Watch the video below.