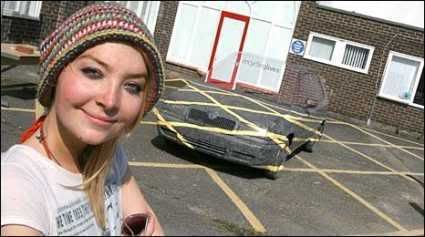 While scientists have been struggling with the possibility of creating a Harry Potter-ish invisibility cloak, Sara Watson, who is studying drawing at the University of Central Lancashire (Uclan), took three weeks to create her own invisible car.
More or less, that is. Through meticulous work, she took the battered old Skoda Fabia that was given to her by local firm Recycling Lives and made it such that you can barely see it in the parking lot of her studio at Uclan's Hanover Building in Preston.
The car is now being used for advertising by Recycling lives. Owner Steve Jackson
described
her work:
"When I first saw the photos I was convinced it was something which had been done on the computer. But when you look more closely you see the effort and attention to detail she has put into it. It is just amazing."