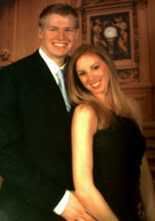 Those who have already bought wedding presents for Philip Markoff, the suspected Craigslist Killer, and his fiancee Megan McAllister, can return them. The wedding is off.
While Megan McAllister visited Philip Markoff in a Boston jail yesterday, and while she says she still believes in his innocence, she said she intends to move on with her own life.
I suppose she does not believe he is as
beautiful a person
as she once thought.
Yesteday's meeting between the two was the first since Markoff was arrested and
charged
with murdering a Julissa Brisman in one Boston hotel and assaulting another woman in a different hotel.
McAllister's attorney, Robert Honecker told TODAY's Meredith Vieira Thursday morning:
"I think, yes, she believes that he is innocent. I think she feels that she's supportive of him. The man that she knew and loved for four years is not the man that's being portrayed in the media.

"I can't answer for the rest of her life. We've been dealing with this difficult situation on a day-to-day basis. The plans she made for life are not there."
He also confirmed that the wedding is off, and not likely to be re-instated:
"The chances for that event to occur in the future, I would suggest, would be unlikely."
To say the least.
Rhode Island police have
linked
Markoff to a third crime, and are preparing charges.
Watch this morning's
Today Show
interview:
Visit msnbc.com for Breaking News, World News, and News about the Economy