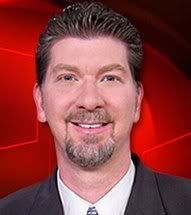 Here we go again.
Another example
of a power-mad policeman.
In El Paso, TX, TV reporter Darren Hunt (pictured) and cameraman Ric Dupont were sent to report on a flipped semi on an interstate. They parked on the shoulder of the
other side
of the road.
Hunt tried to get information out of the men in fatigues, and seeing this, Sgt. Raul Ramirez ordered them to leave. Hunt persisted in trying to ask the men for information, and Ramirez jumped over the median barrier and began yelling, "Get in your truck and move!"
When Hunt replied (pointing to his cameraman) "He can shoot if he wants to," Ramirez rushed over and grabbed him, yelling "Do you want me to arrest you? I'm telling you something. I'm giving you an order."
Eventually it led to both Hunt and Dupont's arrest. Once at the precinct, however, they were nearly instantaneously released (someone had common sense, I guess).
Police Chief Greg Allen, after watching video of the incident,
said
:
"It kind of concerns me because the charge that the sergeant was out there supposedly enforcing appeared to be randomly being enforced. When you have the media and the public mingling together - definitely - if one is interfering then that means all of them are interfering. So if general citizens of the community are being allowed to stand by and watch what's going on, then the media should have as well."
Sgt. Ramirez has been placed on administrative duty pending the outcome of the investigation.