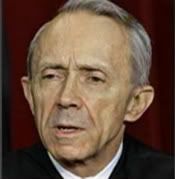 NPR is
reporting
that sources have told them that Supreme Court Justice David Souter plans to retire.
Speculation about Souter's future plans began when the eight other justices hired the four law clerks who will work with them in the Supreme Court term that begins in October. Souter hired no one.
At 69, Souter is not the oldest member of the court by any means, but he has indicated a desire to leave Washington and return to his native New Hampshire.
Two other "elderly" Supreme Court justices, neither of which has given any indication of leaving, are Justice John Stevens, 89, and Justice Ruth Bader Ginsburg, 76.
Souter's retirement would give Barack Obama his first chance to nominate a justice to the Supreme Court; many saw this as an important, though largely unsaid, point during the 2008 Presidential campaign: with a number of justices aging, and with Supreme Court appointments being for life, this President would have the power to shape the court for years, perhaps decades, to come.
Many anticipate that Barack Obama will nominate a woman, with the following listed as possible candidates:
Elena Kagan, the current solicitor general who represents the government before the Supreme Court;
Sonia Sotomayor, a Hispanic judge on the U.S. Court of Appeals for the Second Circuit;
Diane Wood, a federal judge in Chicago who taught at the University of Chicago at the same time this relative unknown named Barack Obama was teaching constitutional law there.
Surprising many, David Souter has proved more liberal than conservatives thought after GOP President George H.W. Bush nominated him in 1990. He generally votes as a a moderate-to-liberal member of the more liberal wing of the Supreme Court.
David Souter graduated Phi Beta Kappa from Harvard University in 1961 with a major in philosophy. He returned to Harvard to attend law school.
Watch an NBC report:
Visit msnbc.com for Breaking News, World News, and News about the Economy