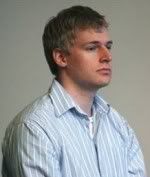 Is the honeymoon over before it even began? Despite calling her fiancee, Philip Markoff, the suspected "Craigslist Killer," a "
beautiful person
," it appears that Megan McAllister has at the very least postponed her planned wedding with him.
The Bstreetband, a Bruce Springsteen cover band, now lists Aug. 14th as open on their
datebook
.
Fri Aug 14th - due to circumstances beyond our control, this date is now available to book.
According to CBS News, the band
had been scheduled
to play at the Aug. 14th reception for Markoff and McAllister.
William Forte, the keyboardist and owner of the Bstreetband, said a relative of McAllister called him and said "that as of right now, there is no way they will be able to have the Aug. 14 wedding date."

Forte said he plans to return the couple's $500 deposit.

"Under the circumstances, I would never hold them to the contract," Forte said.
Of course, this could simply mean that it has become obvious that the wedding can't go on as scheduled, and that it's simply delayed. It could also mean that McAllister has finally taken a look at the stack of evidence against Markoff.
Philip Markoff , a 23-year-old medical student, is
charged
with murdering Julissa Brisman, a New York City resident, on April 14 at the Boston Marriott Copley Place hotel, after responding to her Craigslist "masseuse" ad. He is also charged in a robbery at a nearby hotel of another Craiglist-related masseuse.
He has pleaded not guilty.
He has also been
linked
to a similar attack in Rhode Island.
Watch a "48 Hours Mystery" special report from last Saturday, embedded below: