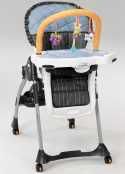 The U.S. Consumer Product Safety Commission (USCPSC) announced on Thursday that Evenflo has issued a high chair recall that covers 643,000 chairs, while at the same time expanding a previous recall by an additional chairs.
There are two models involved in the Evenflo high chair recalls. The first was initially recalled in December. The initial recall was for 95,000 chairs. This has been increased by another 90,000 chairs. The report
says
:
Plastic caps and metal screws on both sides of the high chair can loosen and fall out, allowing the seatback to suddenly fall back or detach from the high chair. Children can fall backwards or fall out of the high chair and suffer bumps and bruises to the head, broken bones, abrasions, cuts and bruises. Detached hardware also poses a choking hazard to children.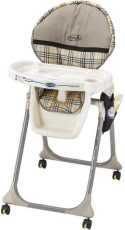 The second model in the Evenflo high chair recall is the Envision model. 643,000 chairs have been recalled, with the report
saying
:
Evenflo has received 320 reports of seatbacks detaching or reclining unexpectedly, resulting in 19 reports of bumps and bruises to the head and 35 reports of other injuries including abrasions, pinches and bruises. Evenflo has also received 13 reports of recline fasteners and screws falling out of the high chair, resulting in one incident in which a fastener and/or screws were found in a child's hand or mouth but were removed before choking occurred.
In both cases, a possible choking hazard is involved in the recall. Both products were manufactured in China.
This Evenflo high chair recall follows closely a
Fisher-Price recall
. In that case, the recall was due to a falling hazard; one child suffered a skull fracture.
Watch a
Today Show
report on the recall: