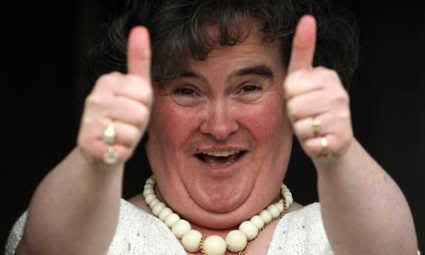 The hits just keep on coming for
Britain's Got Talent
sensation Susan Boyle. While initially ridiculed when she came onstage, her vocal talents just wowed not only the judges, but the audience as well (watch below), with her rendition of "I Dreamed a Dream" from
Les Miserables.
Susan Boyle has also been inundated with interview requests; she's already done 60 interviews with media outlets around the world and is apparently now slated for Oprah Winfrey and Larry King.
In fact, Susan Boyle is slated to appear on Larry King Live tonight (in the U.S.), according to King's website.
Despite the worldwide attention and popularity of Susan Boyle, at the same time, Simon Cowell has been very careful
to state
the deal is not done yet. He said:
"There are some acts that you haven't seen yet – it's not quite the one horse race you are going to think this is."

To be frank, Susan Boyle is definitely not a looker. In fact, she has never been on a date, nor been kissed. But I would think that even if she does not win, she is bound to get a contract. At least, I am rooting for her.
Finally, the Daily Record has unearthed a recording Susan Boyle made 10 years ago for a charity CD of "
Cry Me a River
." It makes you wonder why she has not been signed to a record deal before, although I know, I know, perhaps the answer is obvious, and should make us realize you should not judge a book by its cover.
Cry Me a River:
I Dreamed a Dream: