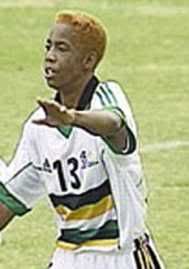 This is heinous, no matter what your opinion of homosexuality.
NGO ActionAid
has released a report titled "Hate Crimes: the rise of corrective rape in South Africa." Corrective rape, meaning that the rape is done in the belief it will lead to heterosexuality among the lesbians.
Right. In reality, it's just a hate crime.
In 2006, South Africa became the first country in Africa to allow same-sex marriage, but yet same-sex unions are often decried as "un-African."
In its report, ActionAid quoted one woman as saying:
"We get insults every day, beatings if we walk alone, you are constantly reminded that you deserve to be raped. They yell, 'if I rape you then you will go straight, you will buy skirts and start to cook because you will have learnt how to be a real woman'."
Zakhe Sowello from Soweto,
said
:
"Every day I am told that they are going to kill me, that they are going to rape me and after they rape me I'll become a girl. When you are raped you have a lot of evidence on your body. But when we try and report these crimes nothing happens, and then you see the boys who raped you walking free on the street."
Laura Turquet, ActionAid's women's rights coordinator,
said
:
"So-called 'corrective' rape is yet another grotesque manifestation of violence against women, the most widespread human rights violation in the world today. These crimes continue unabated and with impunity, while governments simply turn a blind eye."
The issue of "corrective rape" hit the front page in 2008, when in April Eudy Simelane (pictured above), former star of South Africa's national female soccer, became a statistic. She was gang-raped and brutally beaten before being stabbed 25 times in the face, chest and legs.