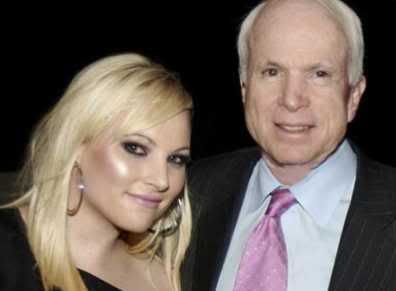 Whew, what a weighty issue. Meghan McCain and Laura Ingraham have been sparring for a while, starting with a post in
The Daily Beast
(where McCain blogs) and continuing onto
The View
today.
McCain's post, titled "
My Beef With Ann Coulter
," was summarized as follows:
As the pundit begins a series of national debates this week—including an event with Bill Maher last night—Meghan McCain says that having her as the face of the Republican Party is a recipe for disaster.
McCain also criticized Coulter on the
Rachel Maddow Show
. Well, that sure set off Laura Ingraham (hey, why not let Coulter defend
herself
?), and she not only discounted her opinions,
asking
:
"Do you think that anyone would be talking to you if you weren't kind of cute and you weren't the daughter of John McCain?"
Ingraham also called McCain plus-sized.
Today Meghan McCain appeared on
The View
. Surprisingly, even ultra-conservative co-host Elizabeth Hasselbeck, supported McCain, calling Ingraham's remarks "a low blow."
Some of what was said:
Meghan McCain:

What do young women think when I speak my mind about politics and I want to have a political discussion about the ideological future of the Republican Party, and the answer is, 'She's fat, she shouldn't have an opinion.' What kind of message are we sending young women? … It infuriates me. I'm a political writer on a blog, and all of a sudden I'm too fat to write?

and later ...
When Tyra Banks went on her show in a bathing suit and said 'kiss my fat ass,' that's what I feel like. Kiss my fat ass!
It's interesting, when I look at Meghan McCain, I don't see a size zero woman, but I see a darned attractive one, anyway.
Ingraham responded quickly on her radio show:
Ingraham responded immediately, and said on her radio show:
The bottom line is it's rough and tumble out there. You wanna put yourself out there as someone who's going to redirect the future of the Republican Party, and you're going to have to deal with satire. You're gonna have to deal with people teasing … You gotta just take a chill pill … Can I say lighten up or is that offensive too?
The hits just keep on rollin'.
Watch McCain's appearance on
The View
below: