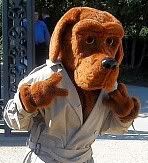 You may remember
McGruff the Crime Dog
, the police mascot created by the Ad Council for the National Crime Prevention Council. His mission: build crime awareness among children. McGruff needs his own lesson in awareness as he never saw this sucker punch coming.
Here's what
happened
:
McGruff was being portrayed by Washington D.C. police officer Tyrone Hardy last Saturday, passing out flyers to children when a Metro bus pulled up to the curb.
The bus driver, Shawn Brim, 38, climbed out of the bus, adjusted both sideview mirrors and then sucker-punched McGruff in the face. Take a look at McGruff's head and you'll know why Hardy didn't see the punch coming.
Brim jumped backed into the bus and drove off, but was eventually caught (what the heck was he thinking?). Well, according to Brim, what he was thinking was he was just trying "to be funny."
Metro spokeswoman Candace Smith said:
"But nobody here finds it funny, believe me. That kind of behavior is not tolerated."
McGruff, or rather, Hardy received a bruised right cheek. Brim received a charge of simple assault, and may lose his job.