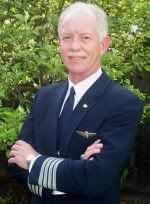 Chesley "Sully" Sullenberger, AKA the "Hero on the Hudson," might have had a pretty expensive library bill coming up when he next visited the library. Fortunately, the library is going to give him a free pass.
The US Airways pilot splash-landed his jetliner in the Hudson River on Jan. 15, and was declared a hero as all survived. But (ouch) he left a book in the cargo hold checked out from California State University, Fresno, through his local library near Danville.
According to
AP
, library officials said Sullenberger asked for an extension and waiver of overdue fees. It sounds like he was willing to replace the book. The librarians did more than that: they waived all fees, including lost book fees, and will be placing a template in the replacement book dedicating it to him.
Let's be honest, though. Right now I would expect "Sully" to be comped at any restaurant he goes to. Milk those 15 minutes for as long as possible.