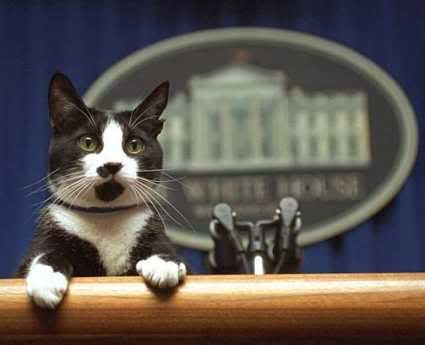 Former first cat Socks, the former pet of Bill and Hillary Clinton, has passed away at the ripe old age of 20.
Socks the cat was a stray rescued by the Clintons' daughter, Chelsea. Socks first spent time at the governor's mansion in Arkansas but later moved to the White House with the rest of the family.
Socks the cat had actually been living with the Currie family since the Clintons left office. the Currie family. Betty Currie was Bill Clinton's former secretary.
Family friend and presidential historian Barry Landau
cleared up
some misconceptions about the separation of Socks the cat from the Clintons. Much had been made of the fact that Buddy stayed with the Clintons after Bill Clinton left office while socks went to live with the Curries.
Landau said:
"The truth be known, Betty asked if Socks could come live with her. The Clintons didn't abandon Socks. They were totally conflicted. It broke their hearts, but they knew it would be the right thing for Socks' welfare."
In a statement released through the William J. Clinton Foundation, Bill and Hillary Clinton said:
"Socks brought much happiness to Chelsea and us over the years, and enjoyment to kids and cat lovers everywhere. We're grateful for those memories, and we especially want to thank our good friend, Betty Currie, for taking such loving care of Socks for so many years."