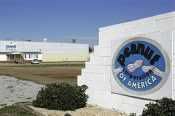 Peanut Corporation of America (PCA), the company responsible for the contaminated peanut butter and peanut paste that has sickened hundreds and may be responsible for nine deaths, as a result of salmonella, has filed for bankruptcy.
The salmonella outbreak was traced to PCA's plant in Blakely, GA. There inspectors found roaches, mold and a leaking roof. Emails revealed at a Senate hearing on Thursday
revealed
that execs knew of the issues.
Additionally, PCA has been accused of re-testing products until a negative result came back, an definite no-no.
A second plant in Plainview, TX was closed this week after preliminary tests came back positive for possible salmonella contamination. Additionally, rodents and excrement were found at the Texas plant.
PCA filed for Ch. 7 bankruptcy, which means it does not plan to re-open. Ch. 11 bankruptcy protection allows a company time to reorganize and reduce debt while it tries to continue doing business.
The government has opened an investigation into the case; in the aforementioned Senate hearing, PCA president Stewart Parnell refused to answer an questions, taking the 5th every time.