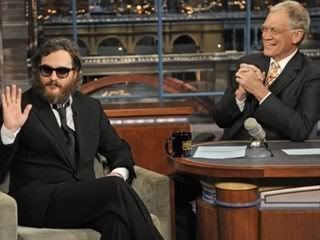 Joaquin Phoenix appeared on
The Late Show with David Letterman
on Wednesday night, in a somewhat bizarre interview appearance. It wasn't just that Phoenix seemed strangely ZZ Top-ish appearance, he was unresponsive to questions and seemed to be somewhat slurring his words.
When Joaquin Phoenix did respond to David Letterman, he gave one word answers for the most part.
The 34-year-old two-time Oscar nominee appeared with David Letterman to promote his last film,
Two Lovers
. His behavior was strange, and at one point, he even pulled some chewing gum from his mouth and stuck it to the Letterman's desk.
Joaquin Phoenix has already indicated he was retiring from acting to focus on his music career. According to Phoenix, he will be focusing on hip-hop.
Letterman concluded his interview by saying:
"Joaquin, I'm sorry you couldn't be here tonight. I think we owe an apology to Farrah Fawcett."
The reference to Fawcett was with regards to a similar strange appearance the actress made on
The Late Show
in 1993.