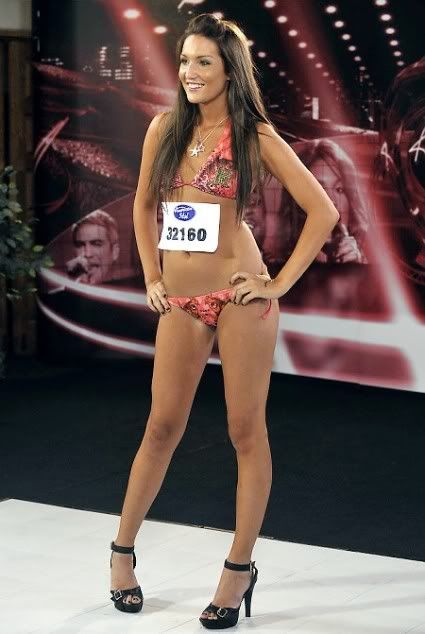 What can you say? Possibly admitting that they want to keep heterosexual males interested,
American Idol
's
Bikini Girl
, Katrina Darrell, made it past the first round of "Hollywood Week."
But it wasn't easy for the Bikini Girl, as Katrina Darrell faced off again with her nemesis, Kara DioGuardi, who panned her during initial auditions.
"What can I say? You're a beautiful girl. I have to tell you, when you started the song, you were better than your last audition. You had me thinking I was wrong – but actually, I think I was right! It went off at the end and got thin."

Oof! Katrina Darrell replied she'd be much better with a backing track, and Simon Cowell, showing his testosterone, agreed:
"I absolutely agree that, with music, it would have been a lot better. It was better than your first audition."

For better or worse, Bikini Girl is here to stay, for now. Oh, and Tuesday: no bikini (fully clothed; don't get your hopes up).