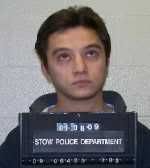 Stow, Ohio police have arrested a man in connection with a bank robbery, but one would have to ask how he even managed to rob the bank when he was wearing a ski mask in line. I mean, where was security?
A teller told him he would have to remove the mask while in the bank. However, he did not comply or reply, but rather continued to wait. As I said, where was security?
Once at the front of the line, he demanded cash. The teller gave him an undisclosed amount of money and he placed it in his own plastic bag. Goldshtein ran from the bank and drove away, but was, as I indicated, arrested soon afterward.
He has been charged with one count of aggravated robbery and one count of failure to comply.