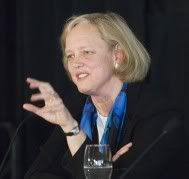 Arnold Schwarzenneger will be "termed out" as California governor in 2010. Speculation has been that he would challenge Democratic Sen. Barbara Boxer for her seat. On Monday, with the
announcement
that Meg Whitman has stepped down from the boards of eBay as well as those of Procter & Gamble Co. and DreamWorks Animation SKG Inc., we may have seen the first indication that Whitman is ready to run for Arnold's vacated spot.
According to the
Wall Street Journal
, a person close to the Whitman said she could announce her candidacy for governor in the next four to six weeks. AP
received
that same information.
Hector Barajas, a spokesman for the California Republican Party said:
"Being business-savvy is going to be an asset for her. That's one of the most important things people are looking for right now."
That's true right now. But in 2010, who knows?
Whitman is a staunch Republican, and that may work against her in the blue state known as California. While Schwarzenneger was able to use his Hollywood fame and the dismal performance of former governor Gray Davis to his advantage, Whitman will not have such an advantage.
She also faces a formidable field on both sides of the aisle, with Carly Fiorina, former HP head possibly running for the GOP, and Gavin Newsom and Dianne Feinstein as possibles on the Democratic side.