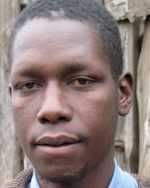 George Obama, the half brother of U.S. President Barack Obama has been arrested for possession of marijuana. He is being held at Huruma police post in the Kenyan capital of Nairobi.
The officer in charge, Inspector Augustine Mutembei said Obama was arrested on charges of possession of marijuana as well as resisting arrest. He is scheduled to appear in court Monday.
In Kenya, marijuana is known as bhang.
According to
CNN
, George Obama denied the charges.
"They took me from my home, I don't know why they are charging me."
George Obama was relatively unknown until right-wing blogs tried to use a Vanity Fair article which implied he was living in a shack against Barack Obama. George Obama bristled at the reports;
"I was brought up well. I live well even now. The magazines, they have exaggerated everything. I think I kind of like it here. There are some challenges, but maybe it is just like where you come from, there are the same challenges."
George Obama was one of the president's few close relatives who did not go to the inauguration in Washington last week. George was the last of Barack Obama Sr.'s children, and his father died in an auto accident when George was only six months old. The two half-brothers barely know each other.