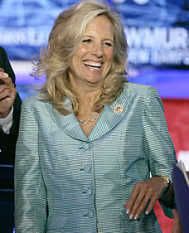 Jill Biden, before her husband Joe Biden is even sworn in as the new Vice-President of the United States, perhaps made the first faux pas of the Obama administration. On Oprah Winfrey's show on Monday, she let it slip that her husband, Joe Biden, was offered his choice of either VP or Secretary of State by Barack Obama.
You might recall a certain presidential primary rival of Obama's is his choice for Secretary of State: Hillary Clinton.
The Bidens were making a surprise appearance on Oprah Winfrey's show, recorded at the Kennedy Center for broadcast later Monday on the eve of the inauguration.
The Associated Press
reports
that "the vice president-elect tried to hush his wife as soon as the words came out of her mouth, with a loud 'shhh!'"
She went on to say:
"If you're secretary of state, you'll be away, we'll never see you, you know. I'll see you at a state dinner once in awhile. But I said, if you are vice president, the entire family, because they worked so hard for the election, they can be involved. They can come to our home. They can go to events, they can be with us all the time. And that's what's important to us."
Later in the afternoon, however, Elizabeth Alexander, Joe Biden's spokeswoman, issued this statement:
"Like anyone who followed the presidential campaign this summer, Dr. Jill Biden knew there was a chance that President-elect Obama might ask her husband to serve in some capacity and that, given his background, the positions of vice president and secretary of State were possibilities. Dr. Biden's point to Oprah today was that being vice president would be a better fit for their family because they would get to see him more and get to participate in serving more. To be clear, President-elect Obama offered Vice President-elect Biden one job only -- to be his running mate. And the vice president-elect was thrilled to accept the offer."
Watch the oops: