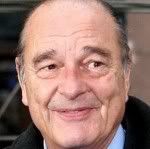 Wait, wait, before we make fun of this, it should be noted that there are dogs that are treated for various psychiatric ailments with drugs. For example, separation anxiety disorder (where your dog goes nuts and destroys your house when you leave) is really a form of obsessive-compulsive disorder and is treated with the same types of drugs a human would be treated with ... an SSRI.
That said, this is still hilarious.
76-year-old former French president Jacques Chirac was rushed to hospital after being mauled by his own, as his wife called it, "clinically depressed" pet Maltese.
Mrs. Chirac
said
:
"The dog went for him for no apparent reason. We were already aware the animal was unpredictable and is actually being treated with pills for depression. My husband was bitten quite badly, but he is certain to make a full recovery over the coming weeks."
The dog's name is Sumo. Shoot, what do you expect when you give it the name of a Japanese type of wrestling?