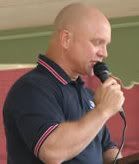 Danny Funderburk, mayor of
Fort Mill
, South Carolina, said the only reason he forwarded on a chain letter asking if Barack Obama was the Antichrist was because he was "just curious."
He
told
the Charlotte Observer:
"I was just curious if there was any validity to it. I was trying to get documentation if there was any scripture to back it up."

He was probably also curious to see if sending on such a false claim could hurt Obama's chances. If he was really curious, why didn't he do what we are going to do (later) to debunk this?
The e-mail has circulated in the last six months since Obama secured the Democratic nomination. It claims the biblical book of Revelation says the Antichrist will be in his 40s and of Muslim ancestry.
For fact-checking, let's go to the place to check for such Internet insanity: Snopes.
According to the Book of Revelations the anti-christ is: The anti-christ will be a man, in his 40s, of MUSLIM descent, who will deceive the nations with persuassive language, and have a MASSIVE Christ-like appeal.... the prophecy says that people will flock to him and he will promise false hope and world peace, and when he is in power, will destory everything. Is it OBAMA??
The fact that the guy can't even spell "destroy" should lead to doubt. But anyway, Snopes
says
(in summary, after much analysis):
Nothing in the Bible --- in Revelation or elsewhere --- describes the anti-Christ as being "a man, in his 40s, of Muslim descent." In fact, since the book of Revelation was complete by the end of the second century, but the religion of Islam wasn't founded until about four hundred years later, the notion that Revelation would have mentioned a "Muslim" at all is rather far-fetched. (And even if it did, it couldn't be construed as a reference to Barack Obama, since Senator Obama isn't a Muslim).
Heavy sigh. Too many people in America read stuff and blindly believe it.