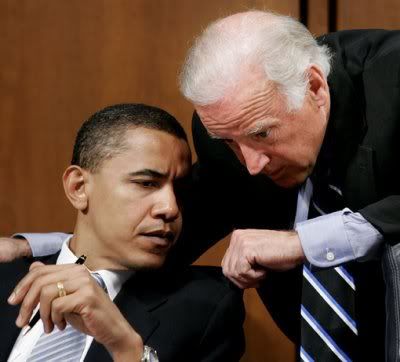 Barack Obama and Joe Biden sat down with
60 Minutes
correspondent Steve Kroft Friday night in Pittsburgh for an interview to be broadcast on this Sunday, Aug. 31, at 7 p.m. ET/PT.
While, Obama explained why he picked Joe Biden, he also commented on Sarah Palin, calling her (kindly, I might add) an "up-and-coming public servant."
Obama:

"Let me tell you the reason I picked Joe Biden. Number one, he can step in and become president. And I don't think anybody has any doubt about that. Number two is that if I'm in the room making the kinds of tough decisions that the next president's going to have to make both on domestic policy and on international policy, then I want the counsel and advice of somebody who's not going to agree with me 100 percent of time - in fact, somebody who's independent enough that can push back and give me different perspectives and make sure that I'm catching any blind spots that I have. And Joe Biden doesn't bite his tongue.

Number three, is somebody who I know in his heart cares about the American people and the American dream, and is willing to fight for them as hard as he can. And Joe Biden fit that bill."



Kroft:

"What do you think of Senator McCain's vice presidential choice? And how does it change the dynamics of this campaign?"



Obama:

"Well, I don't know Governor Palin, I have not met her before. I had a brief conversation with her after she was selected to congratulate her and wish her luck - but, not too much luck! - on the campaign trial. And she seems to have a compelling life story. Obviously, she's a fine mother and a up-and-coming public servant," Obama said. "So, it's too early for me to gauge what kind of running mate she'll be.

"My sense is that she subscribes to John McCain's agenda. And ultimately, this is going to be about where I want to take the country and where Joe Biden want to take the country, and where John McCain and his running mate want to take the country."
While it might be that she is an "up-and-comer," someone who's been governor for two years - of a state with a population so small that 16 U.S. cities are larger - and before that, was mayor of a village of 8500 people, is not ready to be a heartbeat away from the Presidency.
In fact, two Alaskan newspapers have declared her
unfit
for the nomination.
And top Alaskan Republicans are
stunned
- and not in a good way - over the nomination:
State Senate President Lyda Green said she thought it was a joke when someone called her at 6 a.m. to give her the news.

"She's not prepared to be governor. How can she be prepared to be vice president or president?" said Green, a Republican from Palin's hometown of Wasilla. "Look at what she's done to this state. What would she do to the nation?"
Watch the video: