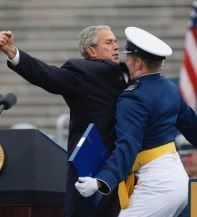 Wait, we don't love him anyway. After Bush's rather silly chest bump of an Air Force Academy cadet at a graduation ceremony in Colorado, Jon Stewart asked us on
The Daily Show
on Thursday,
When I see the president do the chest bump, I cannot help but think that if he hadn't been bleeping things up for the past seven years and was goofing around like this -- would we love him? Would we be like, 'He is irrepressible'? What a scamp!' Or does the whole doing that while Rome is burning aspect of his presidency sour us on his exuberance?

But here's how I explain it. Just imagine something. Come with me on a journey. Come with me on a journey if you will. Imagine that we had never gone into Iraq, that this president had taken immediate and effective action on Katrina, gas was like 99 cents for low-test and Cheney had never been born, just imagine that, and then look at these pictures.

Hey, it's President Bush doin' the Heisman, a little ring-a-ding-ding, ooh, kiss klss, blow blow, and of course the old power flex!

You like dogs? What do you think about these b*tches? Call the plumber.

But of course, he did bleep things up. So it all just seems -- asinine. But at least the president is out there supporting the troops, and isn't that what it's all about?

A montage of clips followed with a host of Republicans insisting that Americans must support the troops.
Yes! We must support out troops -- but not necessarily with equipment -- or strategy -- or aftercare -- or ending their service when you promised -- or having their country contribute in any way other than shop and not question us.

No! There are other better ways to support the troops. Like your flag pins, your flag pin hats, your car magnets.

But there actually is another way to support the troops. There's a new GI Bill, sponsored by Virginia Senator Jim Webb. Basically with this bill, you spend 3 years in the army and they will pay your tuition to the best public college your state has to offer. Give you a little housing stipend, the works. The old GI bill only reiumbursed soldiers fot the AVERAGE in-state tuition cost. So this new bill is more generous for our troops -- which is a huge problem with all those people we showed earlier saying support the troops. Why?



McCain:

At a time when the United State military is fighting in two wars ... one study estimates that Senator Webb's bill would reduce retention rates by 16%.

A 16% drop in retention rates; that is tough to replace. Unless, of course, that same GI Bill would somehow increase recruitment in a way that might offset that loss. According to the same study McCain was quoting, it does -- by 16%, to be precise.

It's hard to imaging why Bush and his cronies have pushed for - and continue to want - more tax reductions for their rich friends, yet Bush has threatened to veto this bill.
Where did potential soldiers get the idea that the military was some kind of fast track to college in the first place?

Yes, where? Perhaps ... military recruitment ads? Stewart played a few clips.
Oh, right. But come on! Nobody believes those ads!

Ah yes, who would believe those ads? You shouldn't after all, since you can't believe them when they tell you when you are getting out of the army, either. After all, if McCain is worried about retention, hey, just use Stop-Loss again!
And finally, addressing McCain's statement:
"I will not accept from Senator Obama, who did not feel it was his responsibility to serve our country in uniform, any lectures on my regard for those who did."

Stewart said:
He's absolutely right. We should not allow military policy to be shaped by those who've never seen combat. To do that would be outrageous; it would be a huge disappointment to anybody who has ever judged themselves on the things ...
The screen behind him filled up with images of Bush, Cheney, and other GOP non-combat "personnel," who do influence our military policy.
Watch the video: