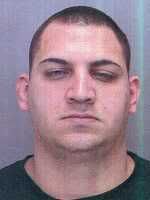 Talking, getting a cell phone call, and other disruptions are very annoying during a movie, which is one of the reasons I choose to wait for a movie to come to HBO or other premium channel. The theater experience isn't what it used to be. In Philadelphia a man decided to take matters into his own hands, using a gun to settle the dispute.
James Joseph Cialella Jr., 29, is charged with attempted murder, aggravated assault, and weapons violations.
A father and son were talking during a Christmas showing of
The Curious Case of Benjamin Button
. After asking them to be quiet, and even throwing popcorn at the young son, who refused to stay silent, Cialella pulled out a .380-caliber gun and shot the father in the left arm.
Strangely, Cialella didn't even bother leaving the theater. He sat back down in his seat and continued watching the movie, until the police arrived and took him into custody.
The unnamed shooting victim was taken to Thomas Jefferson University Hospital, and is said to be recovering.