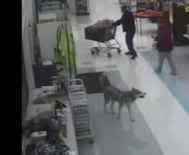 The recession has hit all Americans hard, and apparently canine Americans as well. It's hard to believe, but a dog went into Smith's Food & Drug in Murray, Utah, headed right for the pet food aisle, and made a quick getaway with a rawhide bone.
It's only a $2.79 bone, so it's only petty theft, but still.
Employees were unable to ID the dog, as he was a new customer. Store manager Roger Adamson
said
:
"I've never seen him shop in here before; brand new customer, didn't even have his Fresh Value card."
Confronted by the manager, the K-9 crook still got away.
"I looked at him. I said 'Drop it!'" Adamson
said
. "He looked at me, and I looked at him, and he ran for the door and away he went, right out the front door."
Watch a video report with the surveillance video:
Video Courtesy of KSL.com