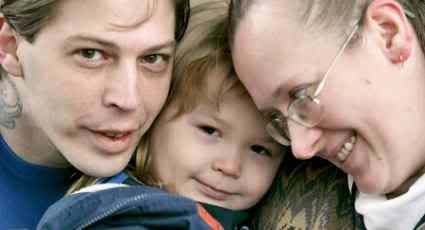 I've often wondered if anyone would name their kid Adolf. And I've also wondered what someone with the surname Hitler would do. But in this case, someone actually made the choice to name their kid Adolf Hitler.
Heath Campbell and his wife, Deborah, are upset not only with the decision made by the nearby ShopRite, which refused to decorate a cake for them that said "Happy Birthday, Adolf Hitler" on their son Adolf Hitler Campbell's 3rd birthday, but with public reaction since the story broke.
Campbell
complained
, "Other kids get their cake. I get a hard time. It's not fair to my children. How can a name be offensive?"
How? Someone show him a history book. But why should anyone be surprised. The family has a swastika in every room, and Heath Campbell wears that formerly belonged to a Nazi soldier. And he claims a relative was once in the SS.
They say they're not racist, but they don't believe in intermingling of races. Oh, and their other two children are JoyceLynn Aryan Nation and Honszlynn Hinler Jeannie (the second of the two is named for Heinrich Himmler).
Hopefully they realize, though undoubtedly not, what a hell their kid's life is going to be.