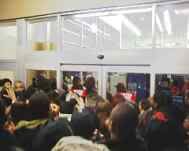 It's something you imagine on a TV comedy series, with non-dire consequences: a rush for a sale where an employee gets knocked down and trampled. But this was real-life, and resulted in a real death.
A worker at a Wal-Mart in New York City's Long Island suburbs was killed when a crowd of shoppers stampeded for Black Friday bargains, knocking him down and trampling him to death.
Besides the unnamed employee, at least four others were injured at the Valley Stream, NY store: a 28-year-old pregnant woman and at least three other shoppers. They suffered only minor injuries.
An initial report that the woman suffered a miscarriage was incorrect.
Jimmy Overby, 43, a co-worker of the employee
said
:
"He was bum-rushed by 200 people. They took the doors off the hinges. He was trampled and killed in front of me. They took me down too...I literally had to fight people off my back."
In a statement, Wal-Mart called the incident a tragedy, saying:
"The safety and security of our customers and associates is our top priority."
Customers, maybe. Associates, not so sure, based on how Wal-Mart treats them.
While no one will be prosecuted for this, I can see a possible lawsuit against Wal-Mart. After all, it appears the crowd (above) was out of control. Why no security guards? They should have controlled it.
Wal-Mart is huge; if they are sued, I won't shed a tear for them, but I will for this employee.