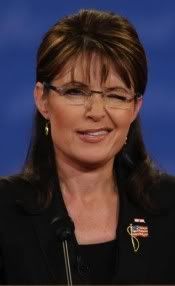 Thursday night on
The Late Show with David Letterman
, he presented the latest top 10 list of revelations about Sarah Palin. There was an earlier such list (more on that later). The new list is:
Thinks Fox News may still declare her and John McCain the winner
At her wedding instead of "I do," said, "You betcha!"
She and Governor Schwarzenegger once exchanged swimsuit-competition posing tips
Prepared for campaign by watching "Legally Blonde 2"
Thinks "NAFTA" stands for "Need Another Fifty Thousand for Accessories"
Begins every day by reading a passage from the hilarious Late Show Fun Facts book available everywhere
She's a person of interest in five unsolved snow machine hit-and-runs
Abused position as Governor to get free appetizers at Ancorage Applebee's
Already has a new job as Briefcase Babe #12 on "Deal Or No Deal"
Her Secret Service code name was "Huh?"
On Sept. 25th, the top ten list was: Top Ten Surprising Facts About Sarah Palin presented by residents of Wasilla, Alaska:

Sometimes Sarah calls John McCain "grandpa" -Interior Designer, May-Lynn Pauling
She stole that sexy librarian look from me -Grasshopper Aviation Pilot, Dave Glenn
Recently passed legislation to build a bridge to Funkytown -General Manager of a Mexican Restaurant, Jerry Ochoa
Recently passed legislation to build a bridge to Funkytown -General Manager of a Mexican Restaurant, Jerry Ochoa
Favorite meal: moose nuggets and beaver jerky -Private Music Teacher, Ana Hartman
Working on "Knight Rider" spin-off about a talking snowmobile -Virtual Golf-Shooting Range Owner, Calvin Culverwell
Favorite book? "Late Show Fun Facts" -- available at fine stores everywhere -Flight Paramedic, Steven Heyano
Once spent a week in the hospital after attempting to put lipstick on a pit bull -Dental Hygenist, Kathy McCone
To improve her foreign policy experience, she recently went to the International House of Pancakes -Deputy Mayor and Chiropractor, Kris Larson
Only person I know who's not afraid to go hunting with Dick Cheney -From the Wasilla Chamber of Commerce, Lyn Carden
Watch the video: