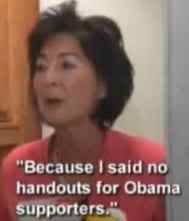 If it was Christmas, Shirley Nagel of Grosse Pointe Farms, Michigan would be the Grinch. Nagel was only giving out treats on Halloween to kids who supported her choice for President: John McCain.
A sign posted outside Nagel's house read: "No handouts for Obama supporters, liars, tricksters or kids of supporters."
I hate to say this, Ms. Nagel, but most kids of trick-or-treating age don't care that much about politics. And, they also don't have a choice about who their parents support. What you're being is a person that, when I was a kid, would have ended up with her house egged or TPed. Not that I'm encouraging that.
Nagel told a Fox 2 reporter that "Obama's scary." When asked about children who'd been turned away empty-handed and crying, she said: "Oh well. Everybody has a choice."
Actually, they don't. As I said above, kids don't have a choice who their parents support.
Readers, you have a choice as well. Her information is
here
. Or, if you'd rather not click through, it's 465 Belanger St, Grosse Pointe Farms, MI, (313) 884-2598. I'm sure she'd appreciate a phone call at 3 AM or so. Not that I'm encouraging that.
Watch a video story with her comments: