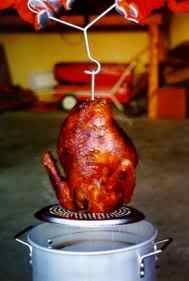 Frying Thanksgiving turkeys in hot oil has become quite the rage in recent years, as an alternative approach to the traditional oven method. That said, there are quite a few safety precautions to follow when frying a turkey, many of them common-sense.
Quite a few fire departments around the country want to make sure you are aware of just what you should --- and should not --- do, as well as the risks involved, when frying your turkey. To be honest, many say "just don't do it."
One problem alone is that the deep-frying cooking process requires up to five gallons of oil to be heated to high temperatures before lowering the turkey into the fryer, which can displace oil in the container spilling it onto the burner --- that's probably the #1 problem.
Risks, from the
Reno FD
:
Many fryers have a risk of tipping over, overheating, or spilling scalding hot oil that can lead to fires and burns.
Some units do not have automatic thermostat controls to regulate the temperature of the oil which can result in the oil heating to the point of boiling over and catching fire.
The sides, lids and handles can get extremely hot and may cause burns.
Tips, from the LAPD:
The turkey should always be completely thawed before cooking, because a frozen turkey lowered into boiling oil --- well, think what happens when you put something frozen into a frying pan, and magnify that.
Many fryers do not have thermostats and can easily overheat causing the cooking oil to combust.
Fry outdoors, for safety
Anyone ever hear of Underwriters Laboratories, and the UL safety list for products? There are no fryers that have a UL listing. John Drengenberg, the company's consumer affairs manager in North Brook, Illinois,
told
the LA Times:
"

There is no turkey fryer that carries a

UL

mark on it. The products have improved over the years, but they have not advanced to the point where we feel comfortable authorizing the use of our mark."

The LAFD also warns that:
"

You can never recover from a hot oil burn. It melts the skin. A child or adult who is burned with hot oil will be disfigured for life – or suffer a fatal injury."
This doesn't mean fried turkey is out. Many love it. It just means you need to take care, especially if you've never done it before. There is a safety video as well. Watch it here: