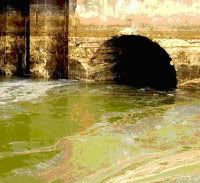 Oh, well, it was a nice attempt. I wrote earlier about Proposition R in San Francisco, which would have
renamed
the Oceanside Water Pollution Control Plant to be the George W. Bush Sewage Plant.
Supporters
had said it would have been an appropriate memorial to a one of the worst presidents in history. However, the San Francisco Chronicle
said
the proposal has been called unfair by some critics ... to the sewer plant, not to Bush.
While Bush himself made no official statement regarding this proposal, in July, when this measure was first proposed, Dana Perino said, when asked about it:
I just don't think it dignifies a response.
More than 69% voted against the idea.