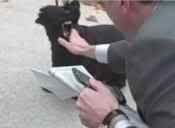 Obviously unhappy with the election results, President Bush's dog Barney showed Reuters television White House correspondent Jon Decker just how upset he was.
He "bit my right index finger this morning -- as I reached down to pet him," Decker said.
The bite broke skin so Decker will be getting a tetanus shot.
Besides the election results, Barney may be peeved at the news over the incoming dog-election: on election night, President-elect Barack Obama promised his daughters a puppy.
Watch video: