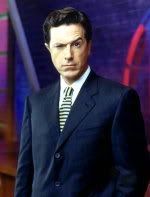 It's amazing how much real news is revealed on a faux news comedy show like
The Colbert Report
. Last month Kathleen Parker, conservative columist, blasted Sarah Palin in a column, saying "
she's out of her league
." She said Palin should drop out.
Naturally, the response was not exactly friendly, with many calling Parker an out-and-out GOP traitor. And interestingly, one of them said her mother should have aborted her and left her in a dumpster. Eh? These are GOP supporters?
Well, it looks like some in the Bush Administration are in the same traitorous boat. Here's what went down on
The Colbert Report
Monday night:
Colbert:

Now, you said that you got emails from people in the White House who secretively –



Parker:

Did I say that?



Colbert:

Yes, you did. You said you secretly got emails from people in the White House but you wouldn't name who they were, who said that they agreed with you.



Parker:

That's correct. I got a lot of off-the-record emails. And a lot of phone calls, from people who said, "you're saying what we've been saying."

...



Colbert:

You have said that the press is too easy on Sarah Palin because she's a babe.



Parker:

You know what, you know what, we're both from South Carolina; do you know what a fantasy it is for those guys, for Bubba, to have a good-looking woman who likes to hunt moose? Come on, this is huge.
He also tricked her somewhat, by asking her who she wouldn't vote for (since she wouldn't say who she would vote for), which led eventually to her saying she didn't like negative campaigning. Then she said, "I see how you're tricking me into answering this question."
Yep, pretty clever. She's voting for Obama, obviously.
Watch the video: