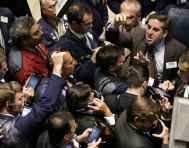 Many traders are losing sleep over the financial crisis. Some (and many in the public) are losing their shirts. But it looks like for at least one trader, he's also lost his hair.
Assuming it wasn't a setup, Rick Santelli of CNBC apparently found a toup on the market floor. Anyone who's seen the activity on the floor knows there can be plenty of shoving and mayhem.
Santelli:

"In treasuries, it's so bad down her, in some of these markets, guys didn't only lose their shirts, one of my guys lost his toupee."



Erin Burnett:

(laughs) "Wow, it has a bad part-line, too."

Better to laugh than to cry, eh?