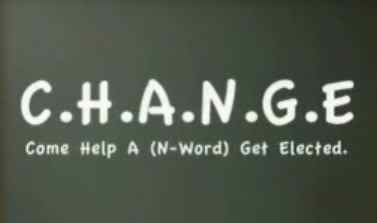 You'll remember, I assume, the recent racist events surrounding this year's presidential campaign. Most recently, Barack Obama was
hung in effigy
at a
Christian
university (how Christian of them). Earlier,
racist Obama Waffles
at this year's Family Values Conference (how family-minded). Now, a Florida teacher has not only abused his position by speaking about political matters at a middle school, he also used the N-word to refer to Obama.
The 7th grade teacher, Greg Howard, asked his students what "change" stood for in relation to Obama. He spelled out the word as follows:
C - Come
H - Help
A - a
N - N*gger
G - Get
E - Elected
The school suspended Howard without pay for 10 days and removed him from his position at the school. However, according to school officials, he has not been fired --- as he should be --- he was instead transferred to Jackson Country Adult Education where he continues to teach.
As I said, this person should be fired, period. If you wish to register your opinion, you can call the following people:
Daniel G. Sims, Superintendent of Schools - 850-482-1200 ext. 210
Larry Moore, Deputy Superintendent - 850-482-1200 ext. 209
Hue Reynolds, Interim Director, Office of Communications and Public Affairs, Florida Department of Eduction - (850) 245-0413,
Hue.Reynolds@fldoe.org
Watch a video report: