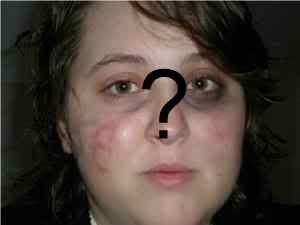 Ashley Todd, who was one of one of John McCain's 50 College Republican field representatives, and who
tried
to play the media --- while at the same time helping John McCain --- for fools, has reached a plea agreement and will be getting off easy.
The original story was that she was robbed and beaten by a 6'4" black male, who also cut a letter B into her face because he was incensed by her John McCain bumper sticker.
Obviously this was all designed to help John McCain, and from the tone of bloggers who wrote about it at first, hurt Barack Obama. Todd didn't count on forensic evidence showing her to be a liar, however (such as the ATM camera footage).
Under the plea bargain agreement announced in court Thursday, Ashley Todd,20, will be released from jail and required to undergo mental health treatment. If she stays out of trouble her record eventually will be expunged.
Getting off way, way too easy, if you ask me, as her actions could have impacted one of the most important elections of our time.